May 1, 2014
Our first few days and especially nights camping in Africa were a surprise. When one thinks of Africa heat is what comes to mind but our nights high up in the Drakensburg Mountains in the Golden Gate Nature Reserve were frigid. The second morning we awoke to find ½" of frost on our windshield. We were very glad to have brought our down bags from Colorado to supplement the lightweight ones that came with the truck. Not surprising is how friendly everyone is. As we have found everywhere people are proud of their country and when a foreigner notices what is special about it they go out of their way to be good ambassadors. In the campground we met some locals who spend lots of time camping and they filled out our itinerary with great spots to visit. Over the next few days we followed their advice and visited Royal Natal National Park and drove our 4×4 over the famed Sani Pass which connects So. Africa with the independent country of Lesotho which is completely surrounded by So. Africa. Even though it was only 10 am when we got to the top of the pass we had an obligatory beer at the highest pub in Africa at 2,874 meters or 9,429 feet.
We have not yet been to any of the huge game reserves but even in our first few days we have already seen black wildebeest, zebra, eland, springbok, baboons and a few other animals from the antelope family.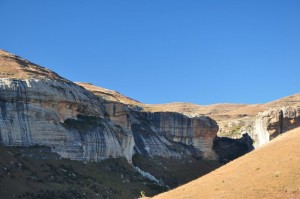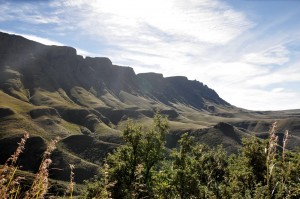 As you can see I am still challenged in figuring out how to correctly layout photos on our blog- so please bear with me until I get the hang of this.
Rob