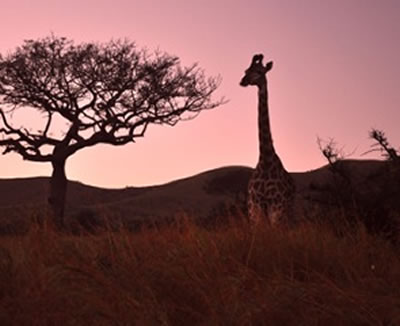 Dee and I spent the last 17 years sailing around the world on a 40' sailboat. It was an unbelievable lifestyle that allowed us to see so many fantastic places and cultures that border the oceans of the world. Now we are heading inland to explore new lands, new people and the largest concentrations of wild game on our planet.
OK, OK… I know I've been a real slacker on the blogging.
Thing is we are doing so much and filling each day to the max that there just is not much time left for blogging and since we are camped out most every night we are not near cities with internet access.
Anyway we are now back in South Africa — fully first world– actually after every place else we have been it does not even feel like Africa.  Namibia was … interesting… basically a huge empty country.  Miles and miles of gravel roads connecting places that in themselves are interesting but driving between them is looooong and booooring.   Namibia is the perfect place for a 200 mph airplane.
The sand dunes at Sossvlei were awesome and the Skeleton coast was suitably mysterious  and eerie.  Pictures to come soon.
We had an awesome time traveling with our friends Brian and Sarah from New Zealand and did all of Namibia together.
Only two weeks left here.
Rob and Dee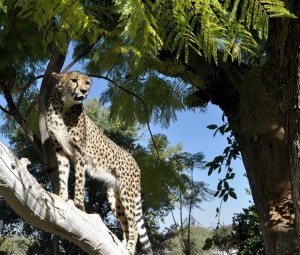 Namibia is a tremendous contrast to the other African countries we have visited. It is much more first world and is also very sparsely populated. Elsewhere in Africa there are people everywhere, walking on every road, standing at every road crossing, carrying water or firewood at any time of the day or night. In Namibia the roads are virtually deserted, the towns are tidy paved enclaves and the German immigrants who originally settled here have made it a reflection of Europe. Our last few days have provided both a wonderful cultural experience and an immersion in the wildlife we came to see. The two animals we had yet to see before our visit to Etosha were cheetah and African wild dog and we saw both this week. We also visited a traditional village of the Himba people where the women never bathe after puberty and instead cover their bodies daily with red ochre paste and waft fragrant smoke over themselves. Their hair is covered in ochre and they wear intricate jewelry including leggings which are decorated according to how many kids they have. We were uncertain what sort of welcome we would get in the village but they were open to small numbers of visitors and glad for both the large sack of cornmeal we brought and the income our visit provided to the village.
Rob
Zambia – a favorite. Friendly, helpful, open folks so well demonstrated by the large amount of "how can I help?" we received from everyone passing by in cars, on bikes or on foot when we had our truck breakdown on the rutted dirt road to Kapishya. Wide diversity from wilderness of north Luangwa to first world Livingstone near Victoria Falls. I especially liked our two day drive leaving Buffalo Camp in North Luangwa National Park on to Mfuwe the entrance town for South Luangwa NP. We were on the road – dirt tracks – for at least six hours each day and only saw two other vehicles until we got to the tarred road outside Mufwe. Good encounters with locals along the way. Gave a lift to a guide going to his village for his days off. This was at the pontoon boat where we loaded the truck onto boards over floating oil cans and the strong operator pulled us across using a claw fashioned out of a tree root on the wire stretched across the river. Glad we had local knowledge since this was the one place we had trouble getting any info about possible passage. The guide was so pleased his mother could send a message ahead to the potential camp site and park gate operator that we were on our way. This out there telegraph system (infrequent cell phone service) twas back up for rescue in case we failed to show up. Stopped at one of the larger villages when the woman operating the pump caught our eyes. She was dressed in robin's egg blue wrap skirt, green shirt and yellow head wrap and had an authoritative air about her. We found out she was the elected pump supervisor, an important village position. Kids were excited and when I suggested a song they treated me to "How I learned my ABCs" in another language! We shared some colored pens and then Rob brought out a soccer ball which was a big hit! Not many pass by and very few stop here. Along the way on the second day we started to see some bicyclists. One guy told us it was a three day ride to Mfuwe and he had only a spare jacket and woven straw mat tied on his bike. He gladly accepted a bottle of water and some crackers. Scenery was great – close woods, deep sands and occasional wild life. And that was just two days on the road between game viewing in national parks. Livingstone was a jump to first world. Lots of traffic, stores, etc. I liked my visit to the museum which had good coverage of the explorer/missionary David Livingstone and an in depth review of the politics(political shenanigans) of the country since independence in the 1950s. So much of Africa struggled with throwing off colonialism only to contend with tribal rivalries and vast corruption under their own rule. Experiencing Victoria Falls was a treat. Being there, walking along the wet path on the point of land parallel to the powerful falls must be experienced. Pictures give you just a small introduction to the majesty of it all. And then rafting on the Zambezi where the hike down to the river was an adventure in itself. It was over 1000 steps down a steep incline which had a ladder of sorts built out of tree branches. I took careful steps in my hiking boots sometimes getting an assist from Richard a local scampering down the side tree supports in bare feet! Those are just a few insights into this great adventure we are having. Travel on! Sent from my iPad
We've had a few interesting elephant encounters lately here in Botswana. Our adventures stared in Chobe National Park where we were staying in a riverside campground that is located on a lighted waterhole. In the evenings you can watch the elephants come to drink under the dim glow of a few orange floodlights. Sitting on the camp's veranda having a cold beer and watching a herd of 20 or more elephants only 40 meters away is a thrilling experience.
However it gets even better as the campground has dug an underground hide or blind only a few feet from the waterhole. The hide is mostly buried except for a two-foot high front wall that has small window slits cut in it for viewing and photography. There is only room for eight people at a time in the hide and it is entered via a 100-foot long underground and very dark tunnel.
Usually the elephants come to the waterhole from the forest on the far side but our second night camped there Dee was sitting alone in the hide when about a dozen elephants approached from right next to the hide giving her an excellent view of them from only 20 feet away.
Later that evening Rob was in the hide with five others when a second herd approached the water as usual from the far side opposite the hide. As the group began to drink one angry female continued to trumpet and chase away both the baboons and a few of the other elephants. She was easy to distinguish from the rest of the herd as she had only one tusk, the other likely broken off in fight.
At one point she chased a juvenile male across the waterhole and directly towards the hide. They stopped about 10 feet from us and both elephants suddenly smelled us and stopped their fight to probe with their trunks towards the open slits in the hide. As one trunk came within a foot of my window I leaned away and grabbed my camera. They continued sniffing but could not reconcile the human smell with the dirt-covered structure they were seeing. Eventually they returned to drinking and spraying themselves with water.
Seeing how close they had come I took stock of my bearings and checked out the construction of the underground room we were in. I could see the roof was concrete and there was a steel framework under that. On top was piled about 3 feet of dirt and the entire thing was lined with corrugated tin roofing. Being that this is Africa I wondered if anyone involved had considered engineering it to withstand the weight of an elephant. Doubtful.
Over the next half hour the angry female frequently trumpeted and often chased other elephants away from her. Then at one point she charged another elephant and chased him again right towards the hide- this time they were both running directly at us at full speed. Suddenly everyone in the hide was leaping backwards from the windows and several people fell off of the high viewing stools knocking them over in the process. The elephants both came right up to within a foot of our viewing windows then fortunately they decided the two foot high front wall was too high and they each made a high speed 90 degree turn running along the front of the hide with their toenails only inches from our noses as the female continued to chase the smaller male. In a second they were past us and out of view- the danger was over but it was certainly a bit too close for comfort.
Chobe South
Driving around the game reserves is a fascinating experience and we have come within feet of lions and leopard who do not view us a food as long as we stay inside our truck. The elephants are another matter though- the rangers routinely warn us that they are really the only animal that is a danger to you even inside your vehicle.
Yesterday we had a very long and difficult day of driving in deep sand all day. Even with four-wheel drive and our tire pressure lowered to 15 psi we had gotten stuck and been forced to dig ourselves out. Sometimes we might dig and dig only to move a few feet and get stuck again as the truck sunk up to the differential in the soft sand.
We were headed to an area outside the Park where we had been told we could camp near a village. It would be bush camping with no facilities nearby but were fine with that. The dirt track we were following was just two ruts with very tight turns twisting in and out around trees. Late afternoon sun was casting horizontal shadows across the road making it hard to see as we wound in and out alternating dark shadows and bright sunlight. We were only going a few miles an hour but as I rounded one tight bend Dee shouted, "STOP". I slammed on the brakes even before I could see why she was shouting and by the time we skidded to a stop and I could see ahead an elephant was directly in the road and I was so close to him I could only see his legs and body. The top of the windshield cut off my view of his head and angry bellowing trunk.
I rammed the gearshift into reverse and floored it trying to use my side mirror to gauge the tight turn I had just come through and keep us on the road. I had almost made the turn when there was a crunch from the rear end as I bounced off the base of a tree which fortunately catapulted us back into the road.   Now I looked ahead and could see the angry and startled elephant shaking his head, flapping his ears and stomping his feet which is the behavior they do just before they charge. I took a deep breath and carefully but quickly backed up another 50 feet then paused. He had not chased us so I got out to assess the damage. I could not see any bent metal so I concluded we had only hit the tree with our tire – how lucky. After waiting a few minutes to let the elephants feed and hopefully move on we continued another half mile to pitch camp under a huge Mopani tree. Time for a little Jack Daniels to settle the nerves.
Oh… also met this guy yesterday.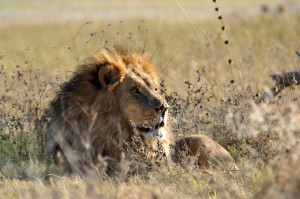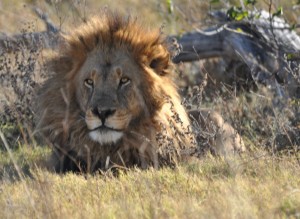 Rob
Our camp in Botswana is on a waterhole and they have dug an underground hide next to the waterhole.  You enter a stairway about 30 meters away and walk through a tunnel to the viewing area.  I was just now sitting about 20 feet from a small herd of elephants– I was eye level with their toenails.
Here's a few pics from today.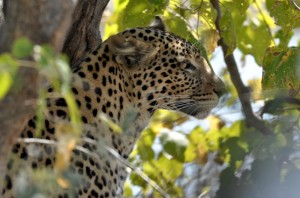 Had and awesome time rafting the Zambezi river just below Victoria Falls.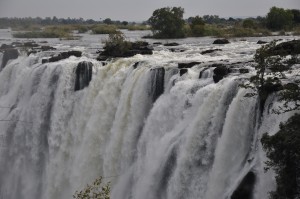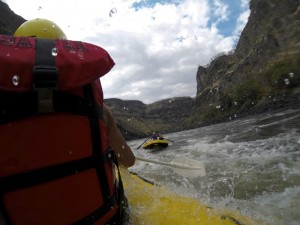 The falls are awesome- about a mile wide over the falls then going into a twisting canyon about the size of Glenwood Canyon on the Colorado River.  Glenwood gets about 20,000 cfs max max and the Zambezi must be in the hundreds of thousands of CFS.  (I intend to find the exact stats soon and post them. After seeing the falls and going rafting I took a helicopter flight over the falls- those pictures soon.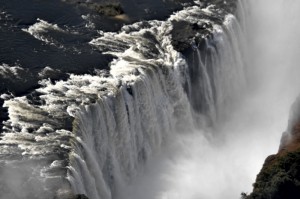 Rob PS sorry for the lousy formatting A few more recent pics- stories to follow:
Rob