Israel Cyprus Turkey Greece Croatia Italy Sicily Sardinia Corsica Monaco France Spain Gibraltar

Our travels along the coast of France were brief as the sailing season was winding down. While we enjoyed visiting the famous spots on the French Riviera at St. Tropez, Antibes and Cannes, our favorite stop was the smaller village of Villefranche Sur le Mer where we spent several days. We also traveled to the beautiful city of Nice by train.
On a very windy day we joined other cruising friends from the yachts Blue Banana and Alchemy for a train ride to visit Marseilles. It was from here that Rob's grandfather had stowed away on a ship heading to America in the early years of the 20th century after having made his way across Europe from Russia as a lone teenager.
In Antibes we saw more megayachts as they readied for crossing the Atlantic to spend their winter in the Caribbean. Rob had been looking forward to the topless beaches of St. Tropez but disappointment set in when we arrived and it was blowing 25 knots and the temperature was in the 50's. The five people on the beach were all wearing parkas. As a consolation we did get to attend a festival of Australian films several nights and it was wonderful to see films in our own language including several award winners.
The best part of our French travels came a few weeks later when we journeyed inland from Barcelona, Spain through the tiny country of Andorra and near Toulouse, France to see some friends. Two different couples both British and both couples ex cruising friends we had met in the Caribbean in 1996 and 1997 were now living in France. We had shared many previous adventures with each. They live a few hundred miles apart and each couple have now taken over and remodeled 400 year old French farm houses.
Wanda and Andy from yacht Ternagain have a garden that is several acres in extent and feeds them and many of their neighbors. Paul and Wyn from yacht Union Jock took us on a wonderful tour of the pastoral French countryside where they live near Cahors north of Toulouse.
Click on any photo to enlarge it. Then hit your back button to return here.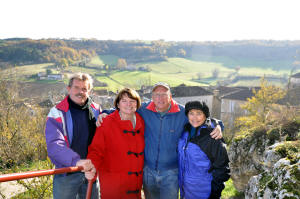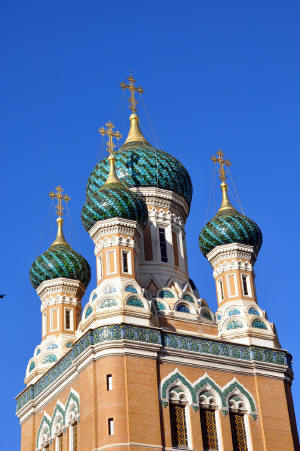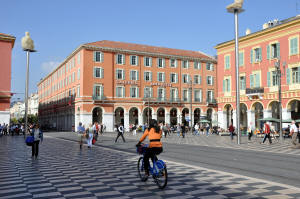 Paul, Wyn, Rob & Dee Nice, France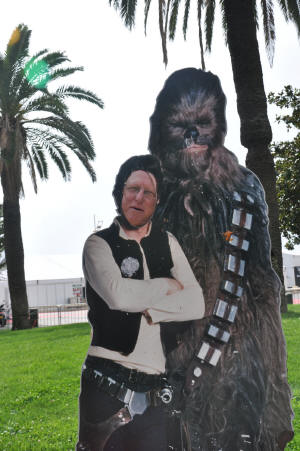 Rob and Chewbaca in Cannes, France